Keystone Kapstones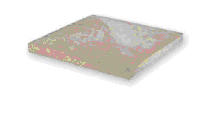 Keystone Kapstones Overview
Keystone Kapstones are column caps that have the natural beauty and durability of cut or rough hewn Stone. They add a perfect finish touch in the project of retaining the walls. The 24''×24'' Keystone Kapstone fits perfectly over the 20''×20'' Keystone Country Manor column. It masks the column joints, the masking have got a good finish. The best part of this type of stone is its cost effectiveness.
Keystone Kapstones benefits
The benefits of Keystone Kapstones are as follows:
Affordability: These stones provide pyramid peaked column cap at very low cost when in comparison to the other competitors of the same field.
Aesthetics: Due to presence of natural aggregates Keystone Kapstones help to create the authentic textures of limestone, granite or flagstone.
Ease of Handling: Keystone Kapstones are very light weighted blocks which can be easily maneuvered by one person.
Color Options: Keystone KapStones are available in a variety of popular colors, making it easy to select the perfect wall accent.
Durability: The presence of high-strength polymer gives it a property of resistance to fading and chipping which in turn makes Keystone Kapstones durable.
Keystone Kapstones Installation
The installation of Keystone Kapstones is done in three steps which are as follows:
Preparation of column: In this step the column is made dust free and then the column is not squared and leveled up.
Application of adhesive: In this step the Keystone Kapstone is turned upside down and the after this the adhesive is applied to the square recessed area on the underside of the cap. The adhesive is applied up to 1/4inch bead.
Placement of cap: In this step the Keystone Kapstone is held upright and is placed on the column. After the placement the stone should be twisted back and forth in order to insure good adhesive bond. At last the adhesive packaging should be cleaned up by following its direction.
Hire a Retaining Wall Contractor Now
Retention of wall involves a process in which there is application of adhesive. The adhesive contains harmful and inflammable substances. So it is always advisable to carry out retention of wall project with the help of a contractor. Our company has got talented and dynamic contractors with a lot of on field experience at an affordable cost. Contact us and see for yourself how talented we are.