Keystone Sedona Stone

Sedona stone has got earthy color. It has got the specialty of bending in any landscape. Sedona stone is very lightweight and is very easy to handle hence is one of the perfect example of for do-it-yourself project.
Introduction and Products of Sedona Stone
Sedona stone is a lightweight and earthy colored product which can be used in any landscape. Keystone Sedona Stone is made of high-strength, low-absorption concrete to provide permanent, environmentally-safe walls. These safe walls do not need any maintenance which make this product durable and hassle free. It also enables us to built straight, curved, or terraced walls to fit the contours of any yard. The secure interlocking of Sedona stone makes its installation very easy and quick without the use of any special tools.
Specifications of Sedona stone
The specifications of Sedona Stones depend on product size, weight, color and availability. In general the following specifications are used in majority of cases.
| | |
| --- | --- |
| Specifications | tri-plane |
| height | 3" |
| width | 8" |
| depth | 5.25" |
| weight | 8lbs |
In addition to these specifications one should make sure that minimum bury width should be ½ units of Sedona stone. The minimum radius of top wall should be equal to 1'-6''.
Estimation of Sedona Stone
These estimations are made for the maximum wall height of 12''.
WALL HEIGHT
WALL LENGTH (measured at wall face including curves)
5'
10'
15'
20'
25'
30'
3"(1 course)
8
15
23
30
38
45
6" (2 courses)
16
30
46
60
76
90
9" (3 courses)
24
45
69
90
114
135
12" (4 courses)
32
60
92
120
152
180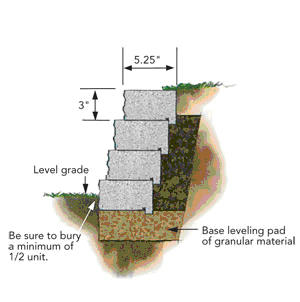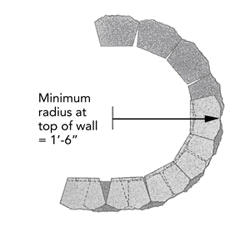 Installation of Sedona Stone
The cutting of edges of Sedona Stone is one of the important steps before its installation. While cutting one should hold unit securely or place at angle on ground. Strike the lug firmly with a hammer.
Installation of Sedona Stone involves three steps:
Prepare the site: In this a shallow trench of 4'' wide and 12'' is dug. One should make sure that he removes sod, roots or large rocks. He should dig 4" deeper and add a leveling pad of sand or grave for organic loam soils.
Set the base course: this involves the exercise of placement and leveling of Sedona stone in the base. One should make sure that the edges of stone touch while its placement and if the wall is curved and straight then one should start with the straighter side.
Stack and fill: In this the second course of stone is placed each Sedona Stone unit on the seams of the course below in a running bond pattern and this process continues in further layers.
Hire a Sedona Stone Contractor Now
Our company provide contractors who are specialized in their respective fields. They have got a good exposure to their job. The cost of construction is also very reasonable in comparison to other contractors. Hire us now!