Keystone Palazzo Stone

Palazzo Stone has got antique finish and earthy color blends. It is angled on two sides and finished at both ends. It can be used to add beauty to garden and home. It has got its application for freestanding walls, parapet walls, curves and planters. It can be also used in transitional retention of wall.
Specifications of Keystone Palazzo Stone
| | |
| --- | --- |
| | Unit Specification |
| height | 4" |
| width | 12/9" |
| depth | 8" |
| weight | 25lbs |
| pins | yes |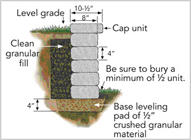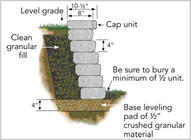 The above specifications could vary according to the size, color and availability of product. As shown in the above figures the Palazzo stone should be at least half buried. The base leveling pad must contain ½'' of crushed granular material.
Estimation of Palazzo Stone
WALL HEIGHT
WALL LENGTH (measured at wall face including curves)
5'
10'
15'
20'
25'
30'
4"(1 course)
6
12
18
24
30
36
8" (2 courses)
12
24
36
48
60
72
12" (3 courses)
18
36
54
72
90
108
16" (4 courses)
24
48
72
96
120
144
20" (5 courses)
30
60
90
120
150
180
24" (6 courses)
36
72
108
144
180
216
The maximum wall height in this estimation is 24''and in addition to this no load over the wall has been assumed. Change in color on chart denotes maximum wall height for vertical and setback positions.
Installation of Palazzo Stone
Installation of Palazzo Stone involves three steps which are as follows:
Preparation of site: In this a trench of 8'' deep by 16'' wide is dug. The grass and vegetables roots must be removed. 4" leveling pad of compacted sand or gravel should be placed in the trench to receive the first layer.
Setting of Base Course: The placement of Palazzo Stone should start from the straighter side of the wall. Each unit should be placed in a manner such that their outside edges touch each other.
Pinning stacking and Filing: In this center each Keystone Palazzo Stone unit over the pins on the joints of the course below in a running bond pattern. The gravel and crushed stone should be cleaned for better drainage.
Hire a Palazzo Stone retaining Wall Contractor Now
Hiring a contractor is one of the most important parts of any job. The choice should be made according to the amount of work. Sometimes for small works we don't require a contractor but it is advisable to hire a contractor for every work. Our company provides contractors who have well past experience in their field. The price for contractors is also very reasonable in our company. Hire our contractors now!