Keystone KeySteel SQFT
KeySteel SQFT Information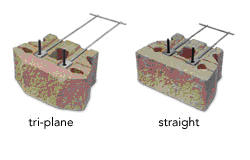 Keystone keysteel SQFT, retaining wall system is an international level system and is designed for places for heavy work such as highways and heavy construction. Keystone keysteel SQFT has a combination of patented keystone modular concrete units and inextensible steel soil reinforcement. Thus it develops a wall system which is not only extremely stable but also very attractive and at the same time cost effective also.
KeySteel SQFT Specifications
| | | |
| --- | --- | --- |
| | tri-plane | straight |
| height | 8" | 8" |
| width | 18" | 18" |
| depth | 12" | 12" |
| weight | 85lbs | 85lbs |
The given chart may vary in accordance to the dimensions and location of the wall.
Features and benefits of KeySteel SQFT
The benefits of KeySteel SQFT are as follows:
Durable components: It has got Inextensible steel reinforcement with 75 to 100 year design capabilities.
Aesthetic Appeal: KeySteel SQFT is available in a wide range of textures and colors.
Design Flexibility: The flexibility in design is provided by the curves, corners and unique geometry of KeySteel SQFT.
Ease of Construction: This is one of the best examples of do-it-yourself job. In this no cranes or heavy equipments are required.
Intended for the Most Demanding Job: In this deflection with steel reinforcements are reduced by more than 66% which makes it suitable for demanding jobs which makes it ideal for bridge abutments, tall walls up to 70 feet and walls with heavy surcharges.
Installation of KeySteel SQFT
Installation of KeySteel SQFT is done in four steps which are as follows and have been explained pictorially:
| | |
| --- | --- |
| Initial Course of KeySteel SQFT | Second Course of KeySteel SQFT |
| Alternate Construction Courses | KeySteel SQFT Capping Option |
Hire a KeySteel SQFT Retaining Wall Contractor Now
As the job of installation of KeySteel SQFT involves building of huge bridges and walls so it is very important that the contractor that is hired should be experienced and skilled at the same time.
Our company has got qualified and skilled contractors at a very competitive price when compared to our competitors. Contact us to find out more.