Keystone Compact Units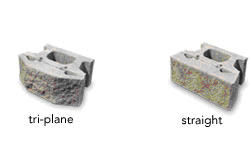 The keystone compact unit is the no. 1 commercial retaining wall product and all time favorite of the installers. Its features consisting of an open core design and the pin connection system are recommended and trusted by contractors and engineers everywhere in the world. The lighter weight of keystone compact unit and shortened tail design makes the handling easier and also make it perfect for projects in which there is no requirement of the embedding length of the keystone standard unit.
It is available in two major face styles:
traditional sculptured/tri-planer
straight-face
Nowadays the keystone compact unit is available also in variety weather finish options including the new hewn stone face keystone compact unit.
Specifications of Keystone Compact Units
| | | | | |
| --- | --- | --- | --- | --- |
| | 3-plane | straight | series II | hewnstone |
| height | 8" | 8" | 8" | 8" |
| width | 18" | 18" | 18" | 18" |
| depth | 12" | 12" | 12" | 12" |
| weight | 85lbs | 85lbs | 85lbs | 85lbs |
| pins | yes | yes | yes | yes |
Product size, weight, color and product availability varies by location so specific locations may show different trends.
Installation of Keystone Compact Units
Installation of Keystone Compact Units is done in following six steps:
Preparing of the base leveling pad: In this step all the vegetation and grass and roots are removed. The leveling of the pad is started at the lowest elevation of the wall. Leveling of the prepared base with 6" of well compacted granular fill (class II road base or 3/4" [20 mm] crushed stone) is done. Compact to 95% Standard Proctor or greater. An additional trench depth for below grade placement of Keystone units on a ratio of 1" (25 mm) below grade for each 8" (200 mm) of wall height above grade (to a maximum of 3 units buried) is recommended. Pea gravel for leveling is undesirable.
Installing & leveling the base course: the first course of Keystone units is placed end to end on the prepared base where the faces of wall corners are touching. receiving pin hole on the unit should be placed downward and the pin holes should face upward .Minimum embedment depth for below grade placement of Keystone units on a ratio of 1" (25 mm) below grade for each 8" (200 mm) of wall height above grade or one unit, whichever is greater is recommended.
Inserting the fiberglass pins: The reinforced fiberglass pins are placed into the paired holes of each keystone compact unit with adjoining units at 12" (305mm) on center. Pins should be placed in the front holes for near vertical (1/8" or [3 mm]) setback and the rear holes for 11/4" (32 mm) setback per course according to design considerations.
Installing core fill & compaction: The empty spaces between and inside the keystone units are filled with 3/4" (20mm) crushed stone or granular fill. Keystone units should be placed so as to get a total 2 feet drainage zone. Poor site soils will, in some cases, cause higher reinforcement costs leading to re-evaluation of the economics for import soils.
Installation of additional courses: The next course of Keystone compact units should be placed over the fiberglass pins, fitting the pins into the kidney shaped recesses of the units above.Keystone units should be adjusted by pushing so that they make full contact with the pins and the process is repeated.
Capping of the wall: Appropriate keystone capping units should be placed and for areas requiring higher usage construction adhesives like keystone kapseal may be used. Plastic soil cap or drainage swale will minimize the flow of surface water into the wall structure.
Hire a Keystone Compact Unit Contractor
We offer contractors with good work experience in installation of keystone compact units and also at a very reasonable expenditure. Our contractors have a good past work catalog which are experts in there fields. Hire San Diego Retaining Wall contractors now and see for yourself how good they are.